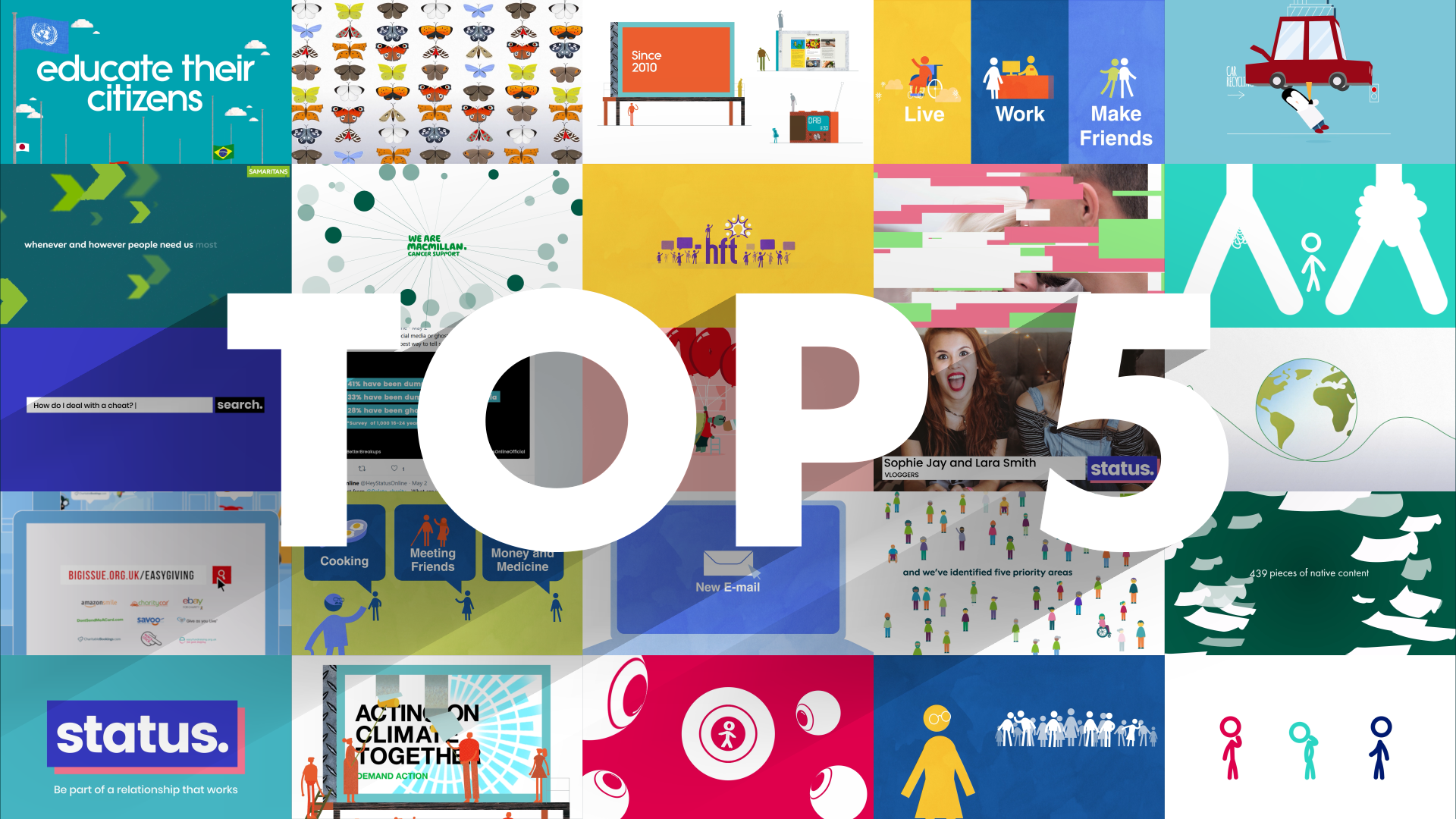 Charity videos can be a powerful tool for raising awareness and funds for important causes. However, creating a video that truly inspires people to donate requires careful planning and execution. We have distilled our experience into 5 tips to help you produce a compelling charity video that drives donations and makes a difference.
Working as a creative content partner for charities is rooted in the DNA of our team at Content Creatures, many of us either worked directly for local and national non-profits or for their agencies creating campaigns in the past, as well as producing global ads for the Homeless World Cup to play in Nike stores around the world.
Since launching Content Creatures in 2014 we have brought this experience to create video content for many charities. Our work has included campaign summaries for Macmillan Cancer Support, awareness films for The Brain Tumour Charity and the Pancreatic Cancer Society, motion brand design for Status Online, animated films to drive donations for The Big Issue Foundation and Climate Outreach, and strategy campaign launch films for Samaritans, Butterfly Conservation and Hft. Along the way, we have learnt how best to partner with non-profits and have constantly refined our process to deliver charity video campaigns.
Being a good creative partner is about delivering a seamless process and clear on-brand creative at a price the charity can afford. Below we list five key considerations to ensure great charity video content without compromise.
Agree a creative brief
Build on your brand, don't reinvent it
Create content for the right audience.
Use advocates
Design with digital assets in mind
1. Agreeing a creative brief.
A Google search for animated charity videos will show up two types of agencies. For a very low budget companies like Fivrr can offer templated solutions or even AI-generated content. These videos will present a message in a generic way, without fully balancing the needs of the audience, brand and message. Other agencies, like us, focus on creating bespoke content that stands out and ensures your brand and message are remembered.
We start by taking a deep dive into your organisation to understand who the message is for, so we can write a creative brief tailored to the campaign's needs. This deep dive will include reading literature from and about you, and stakeholder interviews to gather insight about the broader brand and the current project objectives. Through the creative brief we will identify the single most important thing the creative content needs to address.
For our client Hft, the 'most important thing' was that viewers understood that their new strategy was about giving people with learning disabilities a voice. Hft had formed their objectives from conversations with people with learning disabilities and this needed to be clear to the audience of sponsors and politicians. By defining this from the outset, the script, design, animation, and audio all shared the same creative goal for the video – to show the strategy points coming from people with learning disabilities.
HFT charity video:
2. Building on your brand.
Unless your video production brief is tied to a larger branding project, in which case developing a brand proposition will the first task, then the campaign creative will need to build on established elements of the brand.
Most charity organisations have some form of brand bible, or guideline document, which should include colourways, typeforms, and logo do's and don'ts. More developed brand guidelines may include guidance for the use of photography, layout reference for print campaigns and occasionally iconography. However, despite the importance of video and animation in modern content marketing, very few charities, NGO's and SME's have filming or animation guidelines in place.
Our team are experts at taking print guidelines, a campaign brief and developing designs that interweave the message, narrative device and brand identity to create a motion brand, so the finished campaign is unmistakably owned by the charity in question. The example below, for Climate Outreach, started out as a brief for an awareness campaign and donation drive. Their brand included a vibrant orange key colour and distinctive typography. As part of the campaign brief, we needed to reflect the human action required to combat climate change. The budget was tight, yet characters were necessary to tell the story. Our design team developed a simple character set and the use of real-world texture enhanced iconographic illustrations. The campaign video was very successful, winning awards and delivering increased awareness for Climate Outreach. The animation style has become part of the charity's brand toolkit and we have since created a further three campaigns.
Climate Outreach charity video:
3. Creating video content for the right audience.
It is the nature of most charities that their audience is somewhat niche. Even those organisations who campaign on universal issues, such as cancer, poverty, or climate change, occupy a distinct space in the sector and talk to highly focused groups. Delivering the clear message in the right way at the right time is key. Marketing teams at each organisation know their sector and segment and ensure it is reflected in the brief. A good agency doesn't just deliver excellent creative ideas, they produce great creative concepts tailored to the audience.
The example below was the product of a tricky brief. The Brain Tumour Charity were launching a campaign called Headsmart, to make young adults aware of the early warning signs of a potential brain tumour. Previous campaigns had focused on informing the parents of younger children, these were written to extract the most oxytocin from the viewer's brain by playing on the emotional connection between parent and child. This campaign for older teens had to be different, it needed to work in social spaces where young adults would view it alone or with peers, and ideally share it.
We suggested a strikingly simple visual approach to cut through the social media noise and a folksy indie song, written and composed by our team, that was both humorous and highly informative.  48 hours after launch, the video had 100,000 organic views across all social channels and the campaign received column inches in several national newspapers.
The Brain Tumour Charity video:
4. Using Advocates to contain costs.
Influencer marketing is a buzzword these days, but advocates have always been important for charities and NGO's to help them get their message across. Many years ago, I created an animated campaign for Malaria No More. Audience expectations were low as the charity only had organic social to rely on, however, one of their followers was David Beckham. He retweeted the video and it reached a global audience of 50 million people in one day.
While global icons aren't always on hand, hooking celebrity advocates into your charity video campaign early on can make a difference. They will have a social profile with many followers, potentially even journalists or better known, better followed celebrities. Also, some celebrity advocates will be professional speakers (everything from actors and presenters to TED-talkers). The cost of a voiceover for online can be expensive; usually consisting of a basic studio fee (BSF), plus a buyout of 4 x BSF per annum. This can cost charities anywhere between £1,500 and £2,000. If you're lucky, the voiceover artist will agree to an in-perpetuity buyout, but this remains a sizeable chunk of a charity video campaign budget. Drawing on an advocate, who will give up their time (and voice) for free, not only saves money but provides an additional narrative for PR and an extra channel for social marketing.
For The Big Issue, we approached Paul Kaye during his stint on Game of Thrones. We had read an interview with him, where he raised homelessness as an issue that concerned him and felt he was a perfect fit to voice the campaign. He provided his services for free, and his name helped amplify awareness around the #easygiving campaign.
The Big Issue charity video:
5. Designing for digital assets.
Traditionally, old-fashioned branding agencies would design a logo, some type and then associated static layouts. Eventually, someone would need to create a moving element and hope that the identity translates into a motion brand. It's strange that this late-twentieth century way of working is still common today. We live in an era when audiences first engage a brand, corporate or charity, on social media – these are platforms that prioritise video.
As experts in motion branding, we believe in turning tradition on its head. That by creating the moving image elements first, we can then extract or design digital elements, whether still or animated, for use beyond a single video campaign. In the Status example below, we developed a moving graphic device and created a full motion branding system for a youth-orientated charity. Digital elements included logos, name-straps, title cards, and transitions so they could brand content on YouTube and Twitter. In the case of Climate Outreach, we used elements from video campaigns and reworked stills for digital reports, creating lottie animations to bring to life campaign microsites.
Status charity video:
The above list and examples represent best creative practice when delivering a great ROI on a charity's investment in video production. We believe that essential to finding the right creative partner is choosing an agency who understands your pressure points. At Content Creatures, we have experience of helping charities stretch their budget to the creative limit and delivering high-quality campaigns that cut through the noise, raise awareness, communicate a strategy, or attract donors in a very crowded market.
To find out how we can help you, contact us today.