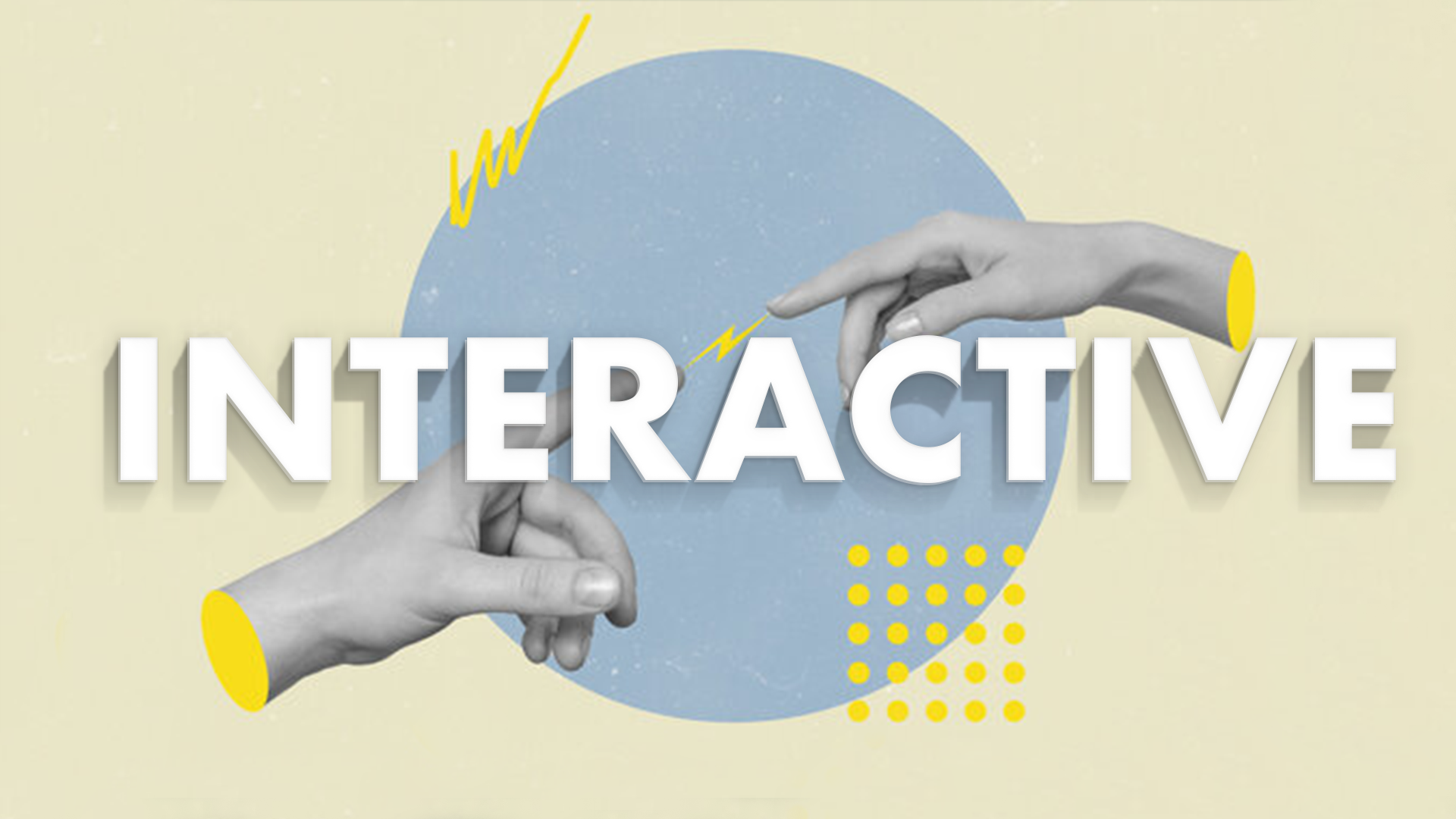 The world of B2B marketing is undergoing a dramatic shift. More and more, businesses are turning to interactive videos to engage their audiences. According to a survey by Wyzowl, 89% of video marketers say video gives them a good ROI, and 83% say video helps them with lead generation.
We will do our best to give you an insight into this rising trend and explore if this could be an option for your future projects.
What are interactive animations and infographics?
Ever feel like you have watched an explainer video and missed some important messaging and need to retrace your steps? Or perhaps some of the topics aren't focusing on the information you're eager to get to?
Unlike traditional animation, interactive animation responds to user input, creating a more dynamic and engaging experience. The information is treated in a non-linear way so that the viewer can move at their own pace and explore areas of information that they are keen to investigate.
The Rising Popularity of Interactive Videos:
Immersive this, immersive that…there's definitely been a shift in the video landscape when it comes to experiential content. Interactive videos are at the forefront of this transition and they're more prevalent than you may think.
Interactive infographics online, exhibition films, e-learning, events animations, and touch-screen apps are all ways that allow viewers to actively participate with information.
But why are they becoming more popular?
Key Benefits of Interactive Formats:
Increased Engagement:
Did you know that most videos on YouTube have an average viewing time of just a few seconds? An interactive story or including interactive infographics will keep viewers interested and ensure they are continuously engaged by your content. This can lead to a more enjoyable and memorable experience overall, resulting in repeat visits, increased engagement, and longer viewing times.
Simplify and Structure Information:
Interactive animation can be used to explain complex concepts in a more interactive and engaging way. They help to guide users through complex processes or actions, making it more likely that they will complete the desired task.
For example, if you have an animated product tour, interactive animation can help to encourage users to take the tour and learn more about your product!
The Fun Factor:
Interactive animation is a lot of fun! The power is at the user's fingertips. Having the ability to control what you are seeing and manipulate certain elements can make the experience more memorable and stand out from the field. For instance, interactive infographics can gamify dry data to motivate user's interest in topics they may have avoided.
It's Popular:
The best marketing strategies incorporate media that consumers want to interface with – and right now, that's interactive video. Its popularity is shown by both brand and consumer behaviour.
Brands are producing interactive video at an astonishing rate; in fact, it already accounts for 36% of all video content that's produced. On the other side, consumers are responding to interactive video with increased engagement rates. According to DemandGen, interactive content gains two times more engagement than static content.
What's the process for creating animated interactive content?
Unlike traditional videos that work in a linear narrative, whereby information needs to flow from one scene to the next, an interactive video gives the viewer the ability to interact with the video content itself through a variety of tools.
Users can click, drag, scroll, hover, gesture and complete other digital actions to interact with the video's content, similar to the way they'd interact with web content. This is usually an additional step in the design phase.
Branching scenarios are the paths of the user takes to work from one scene to the next. These can be varied, with different information pathways to follow or loop backs to restart. We can showcase this during schematic design phase by explaining where each interactive element will take the user and what information might be displayed upon each interaction.
Once approved, we will need to build all these scenes into an app. This app can be either built into a device or hosted on the web page. In either case, the app will require vigorous testing to make sure it can perform correctly. The more devices (web, iOS, Android) that the project will need to be hosted on, the more testing it will require. The end product can be a designated app that is installed onto each platform (a computer, tablet, etc) or a web app that can be hosted on a website.
What are some great examples of interactive animations?
Holcim originally came to us with a brief for an animated video that was a 3D generated world of construction scenes in an illustrative style. We structured the content as a linear video, taking the viewer from one section of information to another.
After the success of the model at launch, Content Creatures were commissioned to create an interactive version for display on large touchscreens at exhibitions and events.
The touchscreen animation was displayed on a 75-inch screen in the Holcim booth at Bau München 2023. Guests to the booth were encouraged to navigate through the animation, learning about Holcim and their circular construction methods. It proved a success with the public, providing greater engagement and allowing Holcim more time to deliver their key messaging.
Atmos is a calm, fact exploration web app that allows the viewer to glide forwards at their own pace as it immerses them in a minimalistic 3D skyscape. The sense of depth controlled by the user's scroll wheel allows the viewer to feel engaged with the information.
Check out this interactive wall created at an event for Mailchimp. The projected illustrations burst to life with the help of some touchpoints that allow the viewer to feel instantly connected to the animations set before them. A fun and engaging installation helping Mailchimp to create a playful and engaging information.
What are some tips for getting started with interactive animation?
Creating engaging interactive videos involves understanding your audience, crafting an interesting narrative, and incorporating interactive elements strategically. Here are some actionable tips:
Understand Your Audience:
Start by conducting thorough audience research. Understand their needs, preferences, and how they consume content.
Craft a Compelling Narrative:
Storytelling is key to an engaging interactive animation. We try to think about the user's journey and how the way they move from one element to another may affect their experience. What is the most engaging and important information for you to convey and what should be showcased at all opportunities?
Incorporate Interactive Elements Strategically:
Whether it's a clickable link, a quiz, or a call-to-action button, make sure each interactive element serves a purpose and contributes to the overall narrative.
We don't want to overwhelm anyone with too many showy and distracting elements. The most important thing should be the information.
Interactive animation, exhibition films, touch-screen apps, and immersive event video all offer an effective way to engage B2B audiences, boost conversions, and enhance brand visibility. By understanding your audience and crafting compelling narratives, you can harness the power of interactive content to transform your marketing strategy.
At Content Creatures, we specialise in animation, motion design and branding. Our work is platform-agnostic, so whether you're interested in a brand launch film for LinkedIn, experiential screens for an event, or an interactive video, we can guide you through the creative process from strategy, through design and production.
We're passionate about what we do and love working with clients to develop and create engaging, immersive experiences – whether that's impactful event and exhibition films or interactive animations for touchscreens.
Why not contact us and see if we can bring your latest idea to life?
Interactive animation is digital video content that involves user interaction for a more engaging experience. These can include clickable elements, quizzes, or branching narratives.
The primary benefit to businesses is increased engagement. By involving the audience in the video or animation, you're more likely to maintain their attention and make a lasting impression. This can lead to increased brand awareness, improved customer retention, and potentially higher sales.
Interactive video and touchscreen animation can significantly boost your SEO efforts. They increase the time spent on your site, indicating to search engines that your content is valuable and should be ranked higher. Additionally, interactive content is more likely to be shared, increasing your backlinks and further improving your SEO.
Recent trends include 360-degree videos, virtual reality (VR), augmented reality (AR), and interactive storytelling. These innovative technologies offer immersive experiences that captivate audiences and create memorable interactions with your brand.
Yes, there are several best practices. First, ensure your interactive elements add value and aren't just gimmicks. Second, keep your target audience in mind and design interactions that will appeal to them. Lastly, test your interactive content thoroughly before launching to ensure a seamless user experience.
While most types of content can be adapted to interactive formats, it's important to choose content that lends itself well to user interaction. Tutorials, product demos, quizzes, and narrative-based content often work well. Remember, the goal is to engage your audience, so consider what type of content will best achieve that.