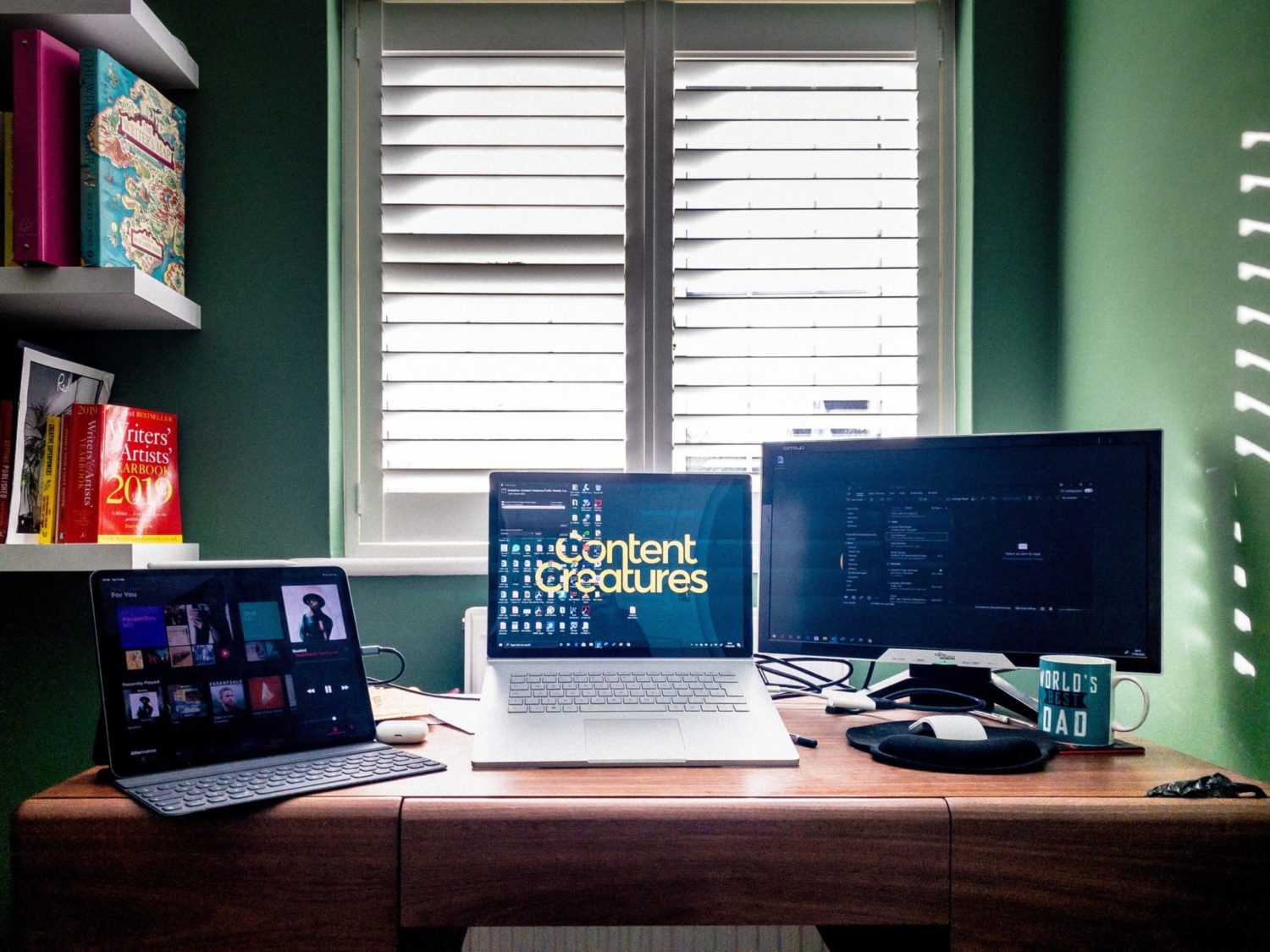 Like many around the world right now, I'm working at home on a laptop that's connected to the office and my colleagues by networks and cloud servers spread all over the planet. It's a daunting situation and I can't help wondering how well all this technology will cope with the strain put upon it.  
I find myself off work for a fortnight after my asthmatic twelve-year-old woke up with a tight chest and a cough, and without being able to test for Covid-19, the whole family are forced to self-isolate. As worried as I am about my loved ones, as a small business owner, I am very concerned about the health of my company through these troubling times. News of my self-isolation prompted my business partner and I to bring forward a planned trial-run of the remote working capabilities of our small creative agency, Content Creatures. 
Adapting to a remote world 
If I'm one hundred per cent honest, I never really got the whole remote working thing. In my first year out of University I worked for LWT, it was a time of paper memos, when phones had cables, and computers weren't networked. While I like to think I've evolved over the past twenty-five-plus years, my mindset around flexible working has always been a bit, well, inflexible. 
When Cailie and I set up Content Creatures, we both felt that having people onsite, talking, working and creating together would lead to better work and a stronger, more consistent studio. Over the years, we have become increasingly aware that flexible working is something we should be embracing, but as old Gen-X dogs learning new tricks hasn't been easy. The millennial and post-millennial mindset of our growing workforce sees remote, flexible working not simply as the new normal, but the true normal. Despite our best intentions, changing our thinking hasn't been easy; to us, real human contact always seemed like the best way to share ideas and collaborate. 
The Covid-19 pandemic means we're completely rethinking that. When the outbreak was still a news story happening thousands of miles away, we began talking internally about what we would do differently to keep the business running if the UK found itself in the same situation. Over the past few weeks, we've put in place several new systems and processes that we tested on Tuesday this week. 
The technical side of remote working
First, we carried out an audit of the teams' home-working capabilities. It was important to make sure that everyone had access to computers that were capable of the high-end animation work we do; our freelance machines and laptops were updated, firewalls and anti-virus software were checked and double-checked before sending them home for people to work on when the time came.   
We also audited everyone's home broadband speed and were pleasantly surprised to find everyone had a superfast connection. With hardware and connectivity secure, remote working for the studio became a possibility. 
Next, we instructed our team to start using MS Teams in earnest. We'd been dabbling with the app ever since Microsoft replaced Skype for Business, but about a month ago we decided to move things up a level and see what it could really do. Teams and channels were created for each project, and everyone at Content Creatures received a webcam. Now that we are up and running, everyone is encouraged to use video on calls. We hope by looking at one another, we'll keep our studio community alive.  
As we became practised with Teams ourselves, we set up external groups to talk and share with clients. Face to face meetings have dried up quickly, and these Teams channels have become invaluable in keeping lines of communication with clients open. We're still able to have new business meetings, take briefs, discuss feedback and, essentially, keep the agency running as close to normal as possible 
Teams has been a strangely humanising tool. Our intern, Hannah-Faye keeps us smiling with teddy bears picnicking or playing Pokémon in the background. While icebreakers with clients have emerged as errant kids, dressing gowns and clothes horses provide sources of small talk when they poke into shot.  
Working in video, our files and folders can be quite large. One of our initial concerns was how we would cope with transferring with massive data remotely. While our central company server was easily configured for secure, encrypted remote access, we quickly discovered that even the best small business broadband could only upload so much data at any one time. To compensate, we're mixing in secure cloud storage to share daily working files before consolidating everything back to the server at the end of the day for scheduled overnight back-ups. 
Added to this, we've also set up remote desktop servers which allow us to render and work on our more powerful studio computers wherever people happen to be self-isolating. 
What we've learned…
Most of what we put in place for Tuesday's test, and beyond, focused on using technology differently. However, one of the key lessons from our test day was the importance of regular conversations. As convenient as messaging is, we found it far more time-consuming than talking directly with colleagues. Scheduling regular catch-ups with our colleagues is critical. What happens organically in an open studio is much harder to recreate when people are working apart. 
From a business perspective, smaller scheduled catch-ups ensure nothing gets missed, problems are spotted early, and online communication quickly becomes natural. On a human level, regular video chats help keep each other sane; jokes, anecdotes and the sharing of inspiration are still happening; all of this prevents our teams from feeling completely isolated. 
Fortunately for us, our test day was a success. Since then, the situation has worsened and working remotely appears to be the norm for a while. For us, it's reassuring to know that we can survive a lockdown if that happens. It won't be easy, but whatever happens, Content Creatures can carry on creating. 
For Cailie and I as business owners, this pandemic has forced our hand somewhat, to create a studio environment that embraces remote working. While the present situation is terrible, for us lessons have been learnt. On the other side of Covid-19, we will be armed with knowledge that will help make our current and future employees working lives better, by being more flexible. We have always known this would help with staff retention and recruitment but haven't had the impetus to try.  
It may not seem like there are many positives to be had during these dark days, but as the old saying goes, 'every cloud has a silver lining'. As cheesy as that may seem, I'm determined to keep looking for them, so that we come out of this looking towards a brighter tomorrow.