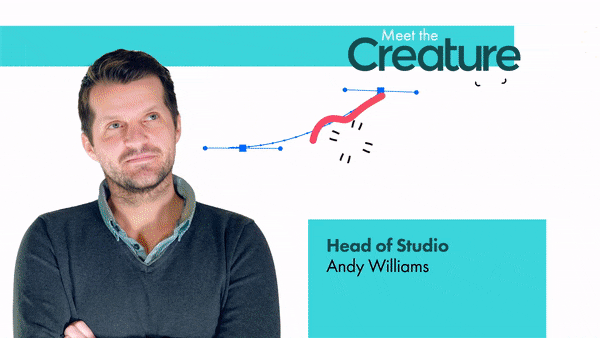 Tell us a bit about yourself… 
I'm Andy and I'm the Head of Studio here at Content Creatures. My primary role is to oversee all things animation. But I'm also a driving force in creating a smooth workflow for each project the studio takes on. 
Why Animation? 
I used to love art and graphic design at school and when I left education, I didn't have a clear idea of what I wanted to study. Fortunately, I had a former teacher who pointed me in the direction of animation. It was something I was aware of from TV and film but had never contemplated as a career. As soon I went to the open day to see what was involved, I couldn't imagine doing anything else.
What did you watch as a kid? 
All the classic British stop-motion kids series: Postman Pat, Pingu, Clangers, Thomas the Tank engine, Fireman Sam and Noddy – As a child, I even used to wear a hat similar to the one Mr.Plod the policeman had.  I wore it everywhere I went because I enjoyed the programme so much (much to my parent's embarrassment).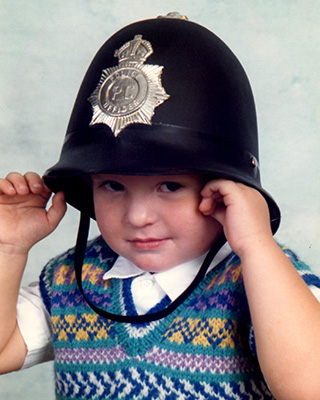 What inspires you? 
A lot of things – there's so much out there at your fingertips now. Everything from Book illustration, architecture and game design to new technology advancements in the VR world. I get a lot of enjoyment from playing video games, being completely immersed in wherever you choose to be. 
What is your dream project? 
It's hard to say – but I'm always excited by new projects that require some problem solving and learning some new skills. It would be great if it was something that has great shareability and was seen by millions of people.
In an alternate reality, what would you be? 
I trained and competed for a long time as a tennis player and aspired to become professional, but it wasn't meant to be. Looking back, the sport has such a demand on your body both in matches and in training, that I think I'd now prefer something a bit calmer – maybe a professional golfer (another hobby of mine).
What makes a Content Creature? 
A lot of; collaboration, hard-work, confidence to speak out and generate ideas and problem-solving. And a love for biscuits, tea and dogs!
What genre of animation would you star in? 
I'd be the lead in any film by LAIKA. Their quirky-designed worlds typically take the main character on big and exciting adventures in fantastical settings. The set and character design are incredible and the fact they do it all with frame-by-frame stop motion animation makes it even more impressive.
What trends are you excited about in 2020?
Immersive experiences, AR and VR are all things in their adolescence and yet they are already taking leaps and bounds in the design community. Companies are starting to animate using VR and interactivity is becoming more dominant online and in events. People want to be involved and not just be spectators. There's also a lot more thought towards the environment – more and more people are conscious of their carbon footprints and global welfare – so I'm intrigued to see all the developments in brand messaging and strategy to captivate the next generation.